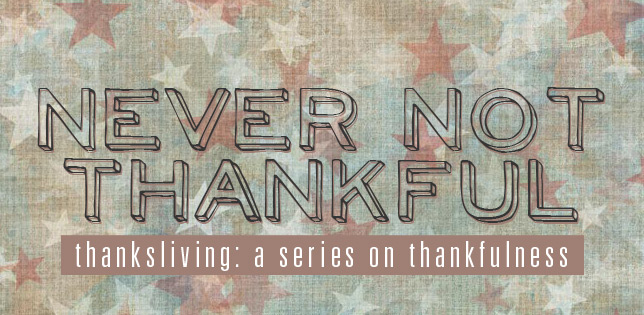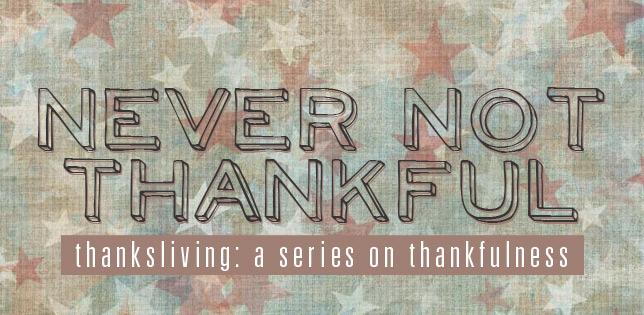 Podcast: Download
Happy Thanksgiving to you and yours this week! Thanksgiving time is not always filled with thanks-giving. In fact, 90% of people are only thankful when it's over. Ok, well that stat might be made up. Regardless, the last thing we want for you is for you to miss out on the joy of Thanksgiving because you just don't feel like being thankful.
This week's conversation addresses the struggle to be thankful emotionally. Let's face it, we don't always feel thankful. Why is that? Listen to the show this week and decide for yourself to never not be thankful. Joining Jeff & DW on the show is Jason, Terra Kay, and Mike Ott. Leave your thoughts with us on the Tweetback!
Thanksliving Series: Time | Heart | Attitude | Never Not Thankful | Kindness by Serving
Some tweets from this week
[Tweet "Confusion leads to a bad mood. God hasn't intended for confusion. @jstrommen"]
[Tweet "When I talk to someone about what's really on my heart, it adjusts my mood. @wagerdaw"]
[Tweet "Do we really want to know what other people are going through? @terrakfree"]
[Tweet "If you change your 'tude, you'll change your mood. @terrakfree"]
[Tweet "When we find out what the cause is, we can begin to change our mood. @TheOtterPop"]
[Tweet "If you're in a bad mood, just shake it off. #terraswift @terrakfree"]
[Tweet "I've decided to never not be thankful! #HNRTB #thanksliving"]
Next Week!
Send us your questions for next week's Ask Me Anything show where Dave and Jeff will talk about what you'd like to hear us talk about.
Subscribe & Support the Podcast
Never miss an episode. Subscribe to the podcast for free on iTunes, Stitcher and Tune In Radio! If you like the podcast, support it.