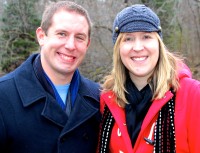 Dan Herod of Youth Alive Wisconsin/Northern Michigan sits down with Jeff & Dave tonight on HopeNet Radio. In the first half of the show, we'll learn about how Dan builds bridges in communities through school assembly program. In the second half, we'll hear an incredibly heart-wrenching story of grappling with the sudden death of his daughter. If  you have ever dealt with grief in your life before, you'll be able to relate to his and Marlena's story.
Podcast: Download
Subscribe & Support the Podcast
Never miss an episode. Subscribe to the podcast for free on iTunes, Stitcher and Tune In Radio! If you like the podcast, support it.